Northfield - Downtown
329 Division Street South
Northfield, MN 55057
Hours
Lobby Hours
Lobby Hours

| | |
| --- | --- |
| Monday | 8:30 a.m. – 4:00 p.m. |
| Tuesday | 8:30 a.m. – 4:00 p.m. |
| Wednesday | 8:30 a.m. – 4:00 p.m. |
| Thursday | 8:30 a.m. – 4:00 p.m. |
| Friday | 8:30 a.m. – 4:00 p.m. |
| Saturday | Closed |
| Sunday | Closed |
Observed Holidays
January 2

Closed for New Year's Day
May 29

Closed for Memorial Day
July 4

Closed for Independence Day
September 4

Closed for Labor Day
November 23

Closed for Thanksgiving
December 24

Closed for Christmas Eve
December 25

Closed for Christmas
January 1, 2024

Closed for New Year's Day
Services
Notary
Walk Up ATM
Safe Deposit Box
Local Leadership
Our Northfield locations are guided by our local President and Community Advisory Board, made up of local community members and business professionals.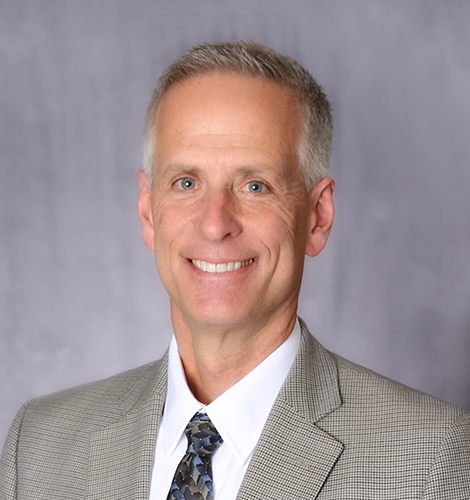 President: Kirk Muhlenbruck
Community Involvement
Being a community leader is who we are. Our team volunteers thousands of hours each year in leadership and education roles in addition to local events.
Our local team is proud to be an annual supporter of The Defeat of Jesse James Days and active in many volunteer opportunities and projects in Northfield.
Mainstreeters Club
Our Mainstreeters Club offers special account perks and membership activities. Mainstreeters is available to Northfield branch customers ages 55 and better who maintain a total qualifying minimum deposit balance of $5,000 in personal savings, checking or certificate of deposit accounts.
Mainstreeters Club Account Benefits:
In addition to special activities Mainstreeters Club members enjoy these account benefits:
Interest paid on the entire account balance (check current rates)
Online Banking & Mobile Banking with Bill Pay
Fee-free cash at 400+ ATM locations
Free Merchants signature custom checks
Free paper statements
Fee waived on first-year rental of Safe Deposit box1
Free Cashier's Checks and Money Orders (up to 4 per month)
Free notary service
Free photocopy services (up to 10 pages per month)
Free fax services (up to 5 pages per month)
No fee on wire transfers within the U.S.
Savings Account bonuses available:
Credit and Loan account discounts available:
To join the Northfield Mainstreeters Club please:
Contact Heidi McCormick, our Mainstreeters Club Coordinator by email or (507) 664-3267
Stop into one of our Northfield branches
Apply online and indicate you'd like to join Mainstreeters Club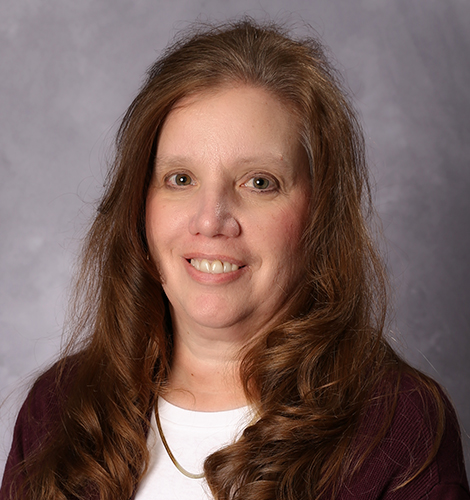 Heidi McCormick, Mainstreeters Club Coordinator
Our History
In 2019, First National Bank of Northfield was purchased by Merchants Bank and the banks merged under the same name on May 18, 2020.
First National Bank was the first bank founded in Northfield, Minnesota in 1873 and was established as a bank for the working class. Some of First National Bank's original organizers and shareholders included owners of the local milling companies as well as other Northfield businesspeople. First National Bank's first President was Frederick Goodsell, a son of one of the founders of Carleton College, which was founded in Northfield in 1866.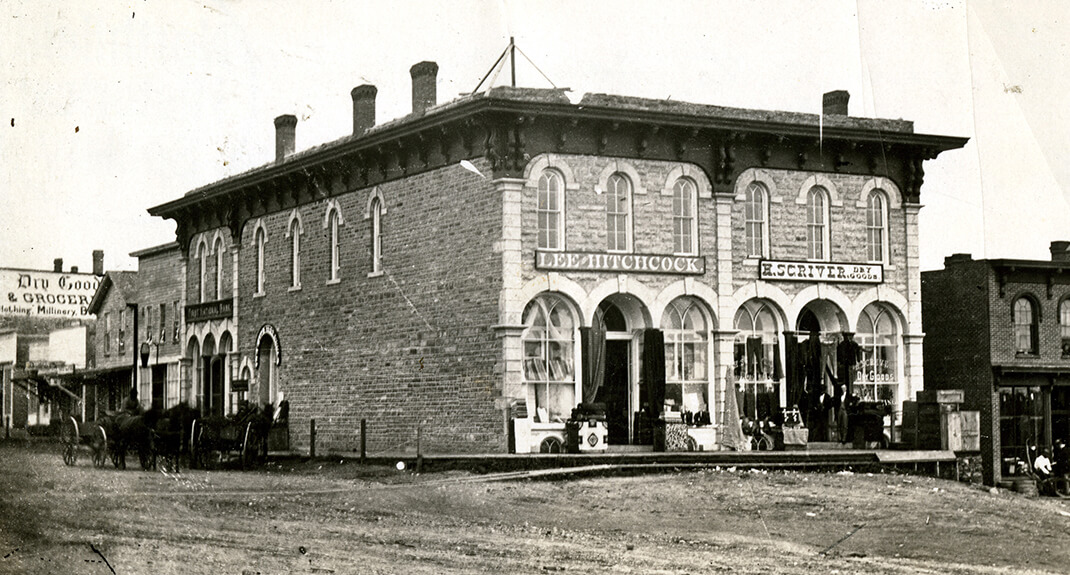 Bank Building Locations
From 1873-1894, First National Bank was headquartered in the Scriver Building in downtown Northfield – which is now home to the Northfield Historical Society Museum. The Scriver Building location is where the attempted infamous Northfield, Minnesota bank raid of 1876 took place. In 1893, the bank moved to the Nutting Building at the corner of Fourth and Division Streets. Built in 1889 by J. C. Nutting and G. M. Phillips, the three-story brick and stone structure originally housed a pharmacy and a jewelry store.
The South location of the First National Bank of Northfield opened in 2007 to better serve the bank's expanding customer base.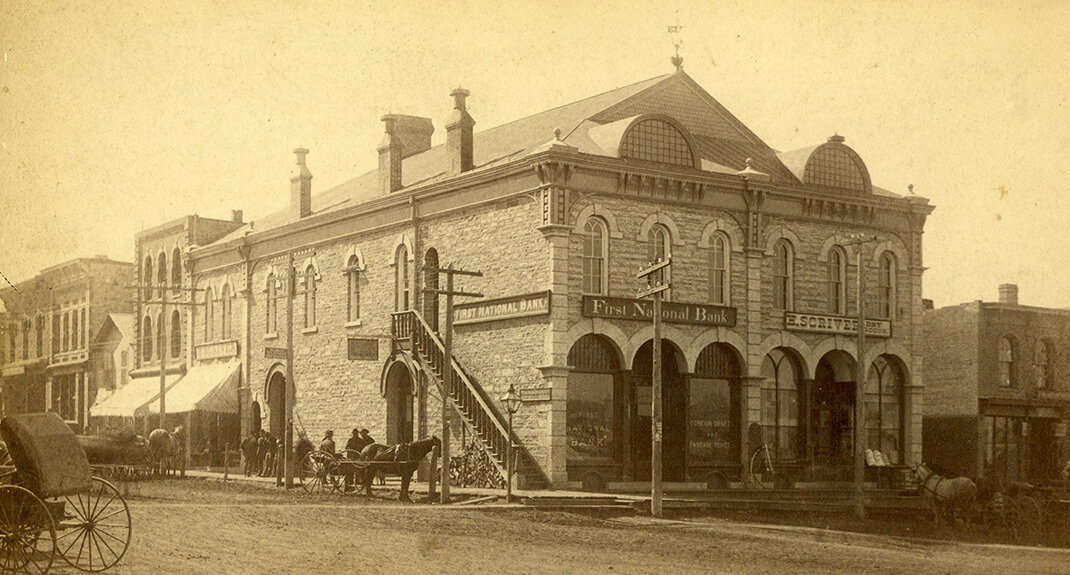 James-Younger Bank Raid of 1876
On Thursday, September 7, 1876, eight outlaws – including Jesse James, his brother Frank and the Younger brothers, Cole, James and Bob – approached Northfield with the intent to rob the First National Bank of Northfield. The raiders threatened cashier Joseph Lee Heywood at gunpoint, but he refused to open the safe and was fatally shot.
Northfield citizens came to the bank's rescue by engaging the gang in a gun battle on the street. When it became apparent that the robbery attempt was failing, the gang fled. When the battle had ended three lay dead, including two of the outlaws, Clel Miller and William Stiles, and Joseph Lee Heywood. Four days later Nicholas Gustafson, an innocent bystander, died of a gunshot wound.
The community of Northfield memorializes this event during The Defeat of Jesse James Days, which is held annually the weekend after Labor Day and is supported by Merchants Bank.
1. Rental of smallest size box available or the value of the smallest size box may be discounted from the annual fee of a large size box.
2. $50 minimum deposit required for Basic Savings Account. $1,000 minimum deposit required for Advantage Savings Account. Owner of Mainstreeter Account must also be named an owner on this account. $10 limit per customer.
3. Owner of Mainstreeter Account must also be named an owner on this account. $5 limit per child.
4. Owner of Mainstreeter Account must also be named an owner on this account. $10 limit per customer.
5. Offer available on new purchase residential mortgage loans or residential construction loans only. One coupon offer available per loan.
6. As of December 15, 2022, the Annual Percentage Rate on a home equity line of credit with an 80% or less loan-to-value and a credit score greater than or equal to 700 was 7.25%. This special offer has fixed-rate pricing as low as 2.9% APR for the first six months, based on relationship reward discounts. Following that six-month period, the rate will become variable, subject to change, based on U.S. Bank, N.A., prime rate plus a margin that is determined based on the loan-to-value in your home and your credit score at the time of application. Current rates vary from 7.25% to 10.00% APR. Maximum possible APR is 17.65%. Minimum possible APR is 4.00%. An origination fee may apply, in addition, you are responsible for certain fees to third parties, such as appraisers, credit reporting firms and government agencies, which are generally from $100–$1,000. Following the first year, there will be an annual fee of $25. Offer available on new home equity lines of $10,000 or more only or on existing lines of credit with an increase of at least $10,000. Consult your tax advisor regarding the deductibility of interest expense. Property insurance will be required. Limited time offer.
7. Subject to credit approval.
8. 15.59% Annual Percentage Rate. Following the first year, there will be an annual fee of $30.