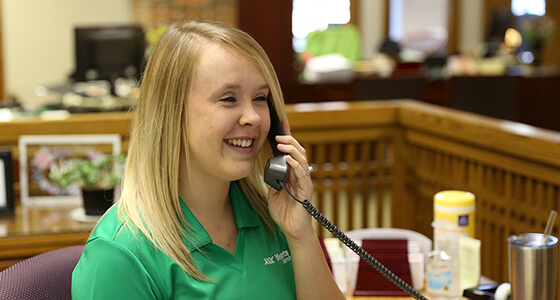 Serving You
At Merchants Bank, our goal is to provide exceptional experiences in every interaction we have with you, including the teams and processes that support your local branch and bankers. When you bank with us, you'll have access to all of the traditional banking services you'd expect from a local bank as well as more specialized areas such as Trust and estate services*, Investment services* and Correspondent mortgage lending.
Our Mission, Core Commitments and Values
Our Mission
To be the financial partner of choice, helping our customers and communities fulfill their hopes and dreams, because we're community members too.
Core Stakeholder Commitments
To Customers - To build loyal and mutually rewarding customer relationships by providing consistently exceptional experiences
To Employees - To create and maintain an environment that promotes and rewards contribution, accountability, initiative, teamwork, learning, professional growth, and development
To Our Communities - To help make each community we serve a better place in which to live and work through financial reinvestment, engaged market leadership impact, and the support of employee volunteer involvement
To Shareholders - To obtain long-term shareholder value through quality growth and financial performance in the upper quartile of our peer group
Our Values
WE are here to serve.
WE will be dependable.
WE will be fair and honest in all things.
WE will care for our employees, our customers and our shareholders.
WE value initiative, creativity and adaptivity to change.
WE will build trust; we will hold our customers' best interests at heart.
WE will conduct ourselves with integrity.
WE will inform people and communicate with all; we will listen.
WE embrace responsibility for our performance and financial results.
WE will direct our human and material resources toward achieving common goals.
WE value teamwork and will celebrate success together.
By honoring our stakeholder commitments and living our core values, we aspire to create a trusting environment…where every diverse stakeholder can expect fair and equitable treatment, feels included, and belongs.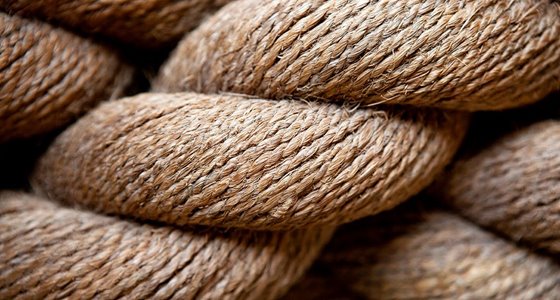 The Story of the Merchants Bank Rope
The Merchants Bank logo possesses a streamlined, forward and rhythmic motion to convey that Merchants Bank is a strong organization with an eye on the future. The three shapes, which together create the letter M, are interlocking and woven together giving the appearance of a rope, which implies strength and flexibility.
The three shapes which compose the M also represent characteristics inherent to Merchants Bank. Each builds off another:
Our employees, customers and shareholders
The regional, central and local aspects of our organization
Quality products, outstanding service and profitability
Volunteers, community and relationships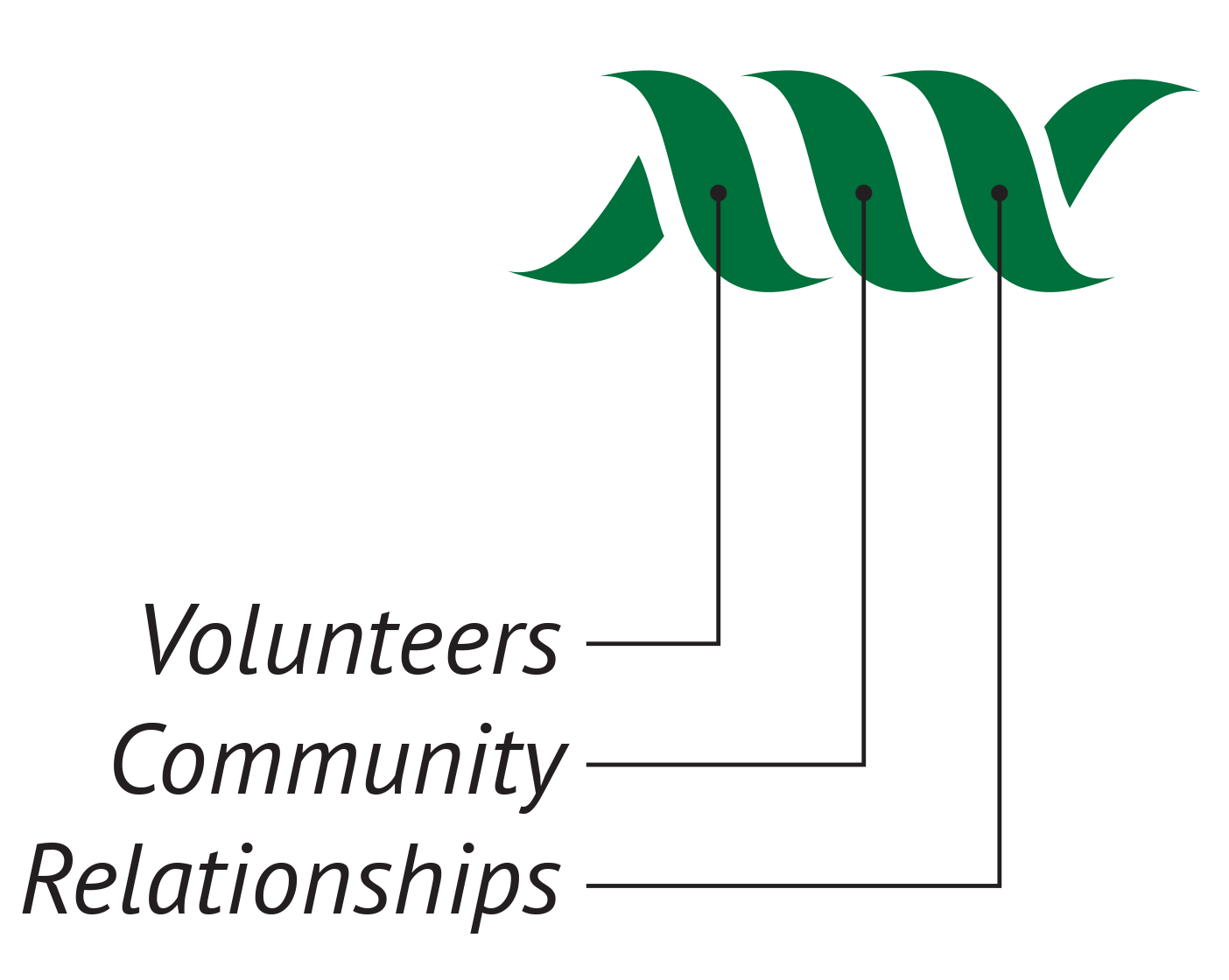 A rope is an amazing tool.
Its strength allows one to lift heavy loads, span great distances and tow precious cargo. Yet a rope is flexible enough to secure valuable packages with a simple knot. This tremendous strength and flexibility is made possible by the thousands of individual strands bound together for one purpose. A rope could teach us a lot about life.
Our First Board of Directors
The group of men that started Merchants Bank truly tells the story of our commitment to the working class. Our original Board of Directors included:
Mark Willson, Merchants Bank President (previously a Merchandise Salesman)
Charles Berry, Attorney
G.W. Bennett, Owner of Taylor & Bennett Co.
Conrad Booth, Manufacturer and Lumber Dealer
Charles Beck, Entrepreneur, Brewer, Politician and Farmer
H.D. Perkins, Merchants Bank Vice President (previously a Grocer)
N.F. Hilbert, Merchants Bank Cashier (previously an Accountant)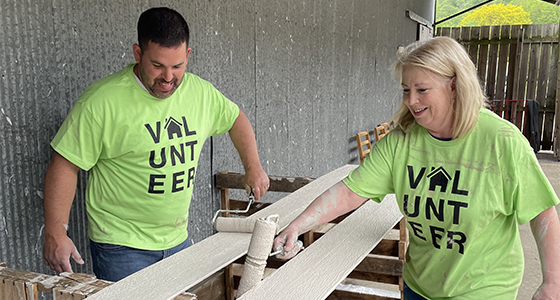 Local Leadership
As your community bank, local leadership is at the heart of every strategic decision we make. With input from our local advisory boards, decisions are made by local staff who know best what will benefit the community. Because we live and work here too, our goals go beyond providing a great banking experience. We work hard to improve the lives of every person, every day. That's what a community bank does.
We also believe in growing leaders within on our team. Pictured above, the I Believe Leadership Series, Discovering the Leader in You! is our annual homegrown leadership program, based on the principles of servant leadership. Staff in management and non-management roles throughout the company who want to grow or refine their leadership skills are encouraged to apply.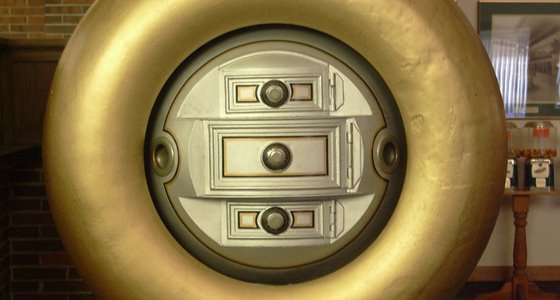 How Merchants Bank Grew
Since our founding in 1875 in Winona (where our original vault pictured above still stands), we've been fortunate to add several communities to the Merchants Bank footprint.
1979 – Opened branch in Goodview, MN.
1988 – Opened Merchants Bank Equipment Finance in Edina, MN.
1989 – Acquired the First National Bank in St. Charles, MN.
1990 – Acquired La Crescent State Bank in La Crescent, MN.
1993 – Acquired Sprague National Bank in Caledonia, MN.
1999 – Opened Lakeside branch in Winona, MN.
1999 – Acquired TCF locations in Rochester, MN.
2000 – Acquired Hampton Bank in Hampton, Apple Valley, Cottage Grove and Hastings, MN.
2003 – Opened branch in Onalaska, WI.
2005 – Opened branch in Lakeville, MN.
2007 – Acquired First National Bank in Cannon Falls and Red Wing, MN.
2009 – Acquired Mainstreet Bank in Cottage Grove, MN.
2010 – Acquired Central Bank location in Spring Grove, MN.
2011 – Acquired Central Bank location in Rosemount, MN.
2013 – Acquired Associated Bank locations in Lanesboro and Rushford, MN.
2014 – Acquired Alliance Bank location in Eau Claire, WI.
2019 – Acquired First National Bank of Northfield in Northfield, MN.
Rooted in Our Past, Looking to Our Future
We're proud of our rich history and flagship location (pictured) in Winona and how we've added to that story by becoming a part of communities throughout southern Minnesota and west-central Wisconsin. As Merchants Bank continues to grow, we remain true to our original mission of being a safe, secure, reliable institution for families to trust with some of their most valuable assets. We're committed to helping the communities we serve thrive through our support of small businesses and the Ag industry, as well as donating our time and monetarily to local nonprofits.