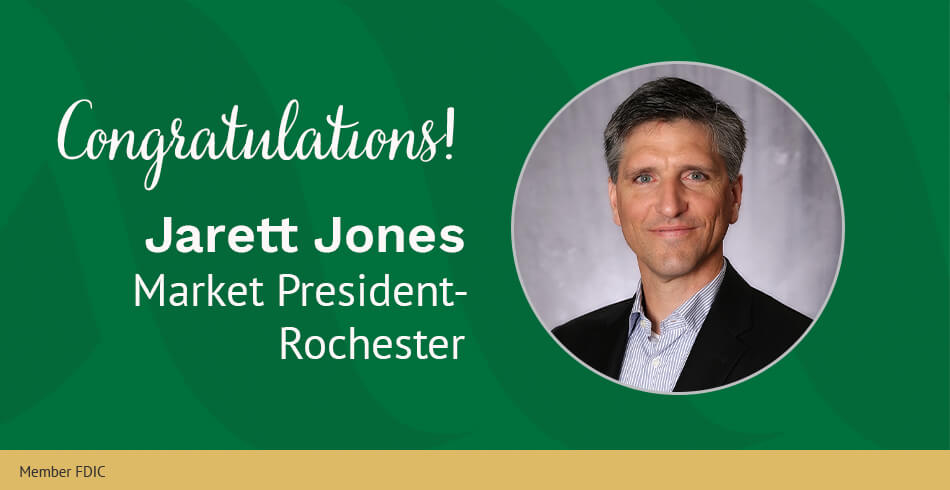 Jarett Jones to Lead Merchants Bank Locations in Rochester
Jarett Jones has been promoted to Market President at Merchants Bank in Rochester, according to Dan Massett, Regional President.
Jones' primary responsibilities will be to provide leadership for Merchants Bank's two Rochester locations, along with meaningful community engagement for the Rochester area. He will also continue to serve as a Commercial Banker and trusted financial advisor for business clients. Jones succeeds Dan Nistler, who retired as the Rochester Market President for Merchants in March.
"I'm grateful for Dan's leadership and commitment over the last four years. I am also excited that we're able to promote from within to fill this strategically important position in Rochester," said Massett. "Jarett has a strong leadership background and will continue moving us forward in this market."
Jones has been with Merchants since 2020 and has been a banker in the Rochester and southern Minnesota area for more than 20 years. He is a graduate of Winona State University and Rochester Community College.
"I'm looking forward to continuing to build relationships with my customers and be a proactive advisor working toward their success together, while also having the opportunity to mentor those on our Rochester team," said Jones. "Merchants' personal approach to customer relationships is truly unique and I'm proud to continue sharing that message in the Rochester area."
He, his wife and two daughters are longtime Stewartville residents and he is an active community volunteer. Jones currently serves on the Executive Board of Directors for Rochester Area Economic Development Inc. as Treasurer and the Board of Directors of the Rochester Area Builders Association. In addition, he is a volunteer firefighter for the Stewartville Fire Department.
Since 1999, Merchants Bank has been a community partner in
Rochester
, with two locations to help individuals and businesses achieve their financial goals. With a focus on
mortgage
and
business
financing, Merchants has been fortunate to grow as Rochester has grown. In addition to traditional banking services, the Bank also offers a full line of
business loan
,
lease
and
floor plan finance
solutions,
digital banking, security apps
,
treasury management
tools and
wealth management
services.
Merchants Bank
is a full service community bank with 23
bank locations
in southeastern Minnesota and west-central Wisconsin and a leasing division, Merchants Bank Equipment Finance, in Edina. Headquartered in Winona, MN, MFGI has more than $2.8 billion in assets.