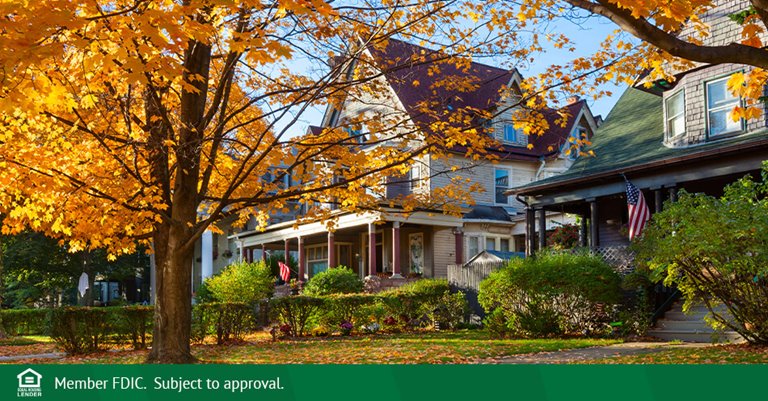 4 Fall Home Tune Ups to Review Now
Home and Family
| 08.17.2022
Have you been putting off a home repair or remodel project? This Fall might be the right time to take it on, and potentially save yourself time and money on expensive repairs next Spring.
So where should you start? Here are four areas to review before winter hits.
1. Window Replacement
Average Cost – $6,251*
New windows can have a big impact on your utility bill, especially if you make the investment in glass with multiple panes. If you notice drafts, condensation or frost on your windows it may be time to upgrade.
2. Roof Repairs
Average Cost – $1,037*
Maintaining the quality of your roof is critical to keep your home protected and dry. Winter weather especially can aggravate small leaks and other problems, so take the time to assess your roof now.
In particular, you should pay attention to:
Blown off or missing shingles
Bad or leaking flashing around pipes, chimneys, skylights or the gutters running down the angles of your roof
Locations of possible ice dams
Water build up around low slopes or inadequate pitches
Hiring a professional to help review and fix these problems can save you from future headaches and expenses.
3. Furnace Tune Up or Replacement
Average Cost – $308 to repair, $4,688 to install*
Don't let your comfortable, cozy home be interrupted by a broken (or worse, dead) furnace. Part of keeping your furnace in tiptop shape includes occasional maintenance from a professional, which is routinely done before the temperatures drop.
If your furnace is 10-15 years old – the average age of a furnace – it may be a better financial investment to replace it. Just like upgrading your windows, a new high-efficiency furnace can also save you money on your utility bill.
4. Exterior Paint
Average Cost – $3,062*
While a fresh coat of paint is easy on the eyes, it can also help prolong the life of any outdoor surface that will be covered in snow. Help protect your siding, trim, deck and stairs with new exterior paint and sealant.
At Merchants Bank, our Home Equity Line of Credit can help qualified applicants pay for fall home improvements or repairs. If you have equity in your home, now is the time to take advantage of our great introductory rate of as low as 2.9% APR for the first six months and 7.25% APR after that.**
Contact your local Merchants Bank Personal Banker to get started, or apply online now.
*http://www.homeadvisor.com/cost
** As of December 15, 2022, the Annual Percentage Rate on a home equity line of credit with an 80% or less loan-to-value and a credit score greater than or equal to 700 was 7.25%. This special offer has fixed-rate pricing as low as 2.9% APR for the first six months, based on relationship reward discounts. Following that six-month period, the rate will become variable, subject to change, based on U.S. Bank, N.A., prime rate plus a margin that is determined based on the loan-to-value in your home and your credit score at the time of application. Current rates vary from 7.25% to 10.00% APR. Maximum possible APR is 17.65%. Minimum possible APR is 4.00%. An origination fee may apply, in addition, you are responsible for certain fees to third parties, such as appraisers, credit reporting firms and government agencies, which are generally from $100–$1,000. Following the first year, there will be an annual fee of $25. Offer available on new home equity lines of $10,000 or more only or on existing lines of credit with an increase of at least $10,000. Consult your tax advisor regarding the deductibility of interest expense. Property insurance will be required. Limited time offer.